People Trapped inside Daraya , Emotional Isolation and Need of Familial Love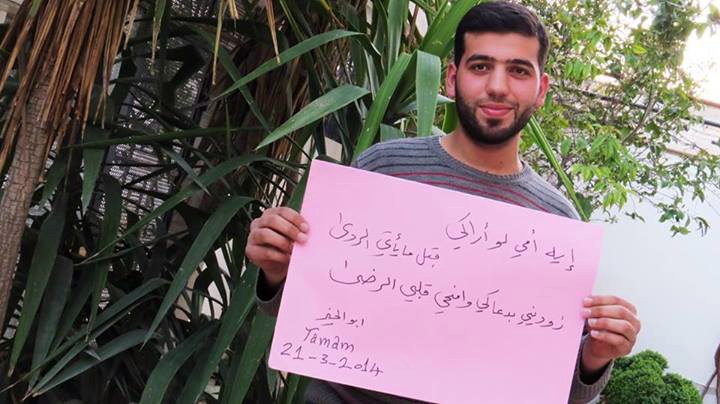 Enab Baladi Issue # 115– Sun, May. 4, 2014
Ahmad Hadla
Human suffering is no longer limited to specific people within the city of Darya, but it extended beyond that to include the entire families. The members of such families are scattered between trapped inside the city who are mostly young men, and others who managed to get out. This situation caused great social and emotional problems in which people are trying to get past them through meeting their families even for limited periods.
Children, between the separation and bad conditions at home
Although, there are different cases of loss of parents among young married couples who have left their wives and children out of the city, but they meet in the way of expressing their suffering from this situation. Abu Mohammed, one of the fighters of the Free Syrian Army (FSA), says about his confusion between leaving his children out of the city or bringing them back to him "I do not want my children to grow up away from me, and at the same time I do not want them to enter the city and suffer from the difficult living conditions and shelling … my little son must have forgotten me because I left him at the age of six months and now he is two years old".
However, Abu Shadi, a group leader at the FSA, says, "I saw a young man kissing the feet of his father in Moadamyeh, and I cried because I thought that my children will be suffering the same so I managed to bring them into the city, and I met them". While, the martyr "Mujahid Abu Humam" has a different story as he was always hoping to see his new-born baby but he passed away without seeing his son who was only two months old.
Separation threatens marital relations
The loss of the wife has a different meaning of "longing and suffering". Abu al-Khair, who is working in the field hospital, says "despite the difficult conditions within the country, I allowed my wife to stay here because we suffered from the separation for a year and four months. My wife suffered from the displacement conditions, and I suffered from separation… We will stay here together".
However, Muhammad who broke up with his fiancé, after she requested that, is telling us that she asked him to meet her after a year and a half from the happenings and if not "she is getting older and she can't carry on", he thinks that "she is right but the situation is uncontrolled".
Abu Anwar says "his meeting with his wife makes him feel better and helps him lift his spirit, a year and a half of separation are sufficient enough to cause psychological crisis for the couple".
The mother has a special place
On the other hand, the mother has a special place in the hearts of some people that is superior to the position of the children and the wives. Abu Mahmoud who is working in the Office of Services, says, "I want to meet my mom and let my eyes enjoy her presence so if I die after that I will be comfortable… I am not used to staying away from my mom for more than two weeks".
While Abu Bara went to say that he does not want to see his mother unless "after an honourable victory" because he does not want "to put her in danger or face a bad condition during an attempt to reach Darya", he was indicating a conflict between his sense and sensibility.
In their turn, mothers are also suffering from the loss of their children and perhaps the clearest example of this suffering is the mother of the martyr "Imran Abu Acid". She lost her husband and son previously and she had only "Imran" inside the city of Darya so she put herself in danger to enter the city and see him but unfortunately he was injured on the same day she came in. She stayed by his side when he was dying for several days in the hospital till he died and she witnessed his burial, and then she left the town.
It is noteworthy that some defectors from Assad's army in Darya have not seen their parents since their dissident or so ago, as is the case with "Abu Ahmed" who served "a year in the regular army before the revolution and he has not been discharged", he pointed out that forfour years and he has been living a "military life that is far away from the family life", he went on saying "in spite of these difficulties, we will remain steadfast so our children won't suffer what we are suffering now".
Translated by: Ruba Al Jarf
if you think the article contain wrong information or you have additional details Send Correction