Increasing Rationing Hours in Damascus and its Suburbs.. Citizens are turning towards alternative solutions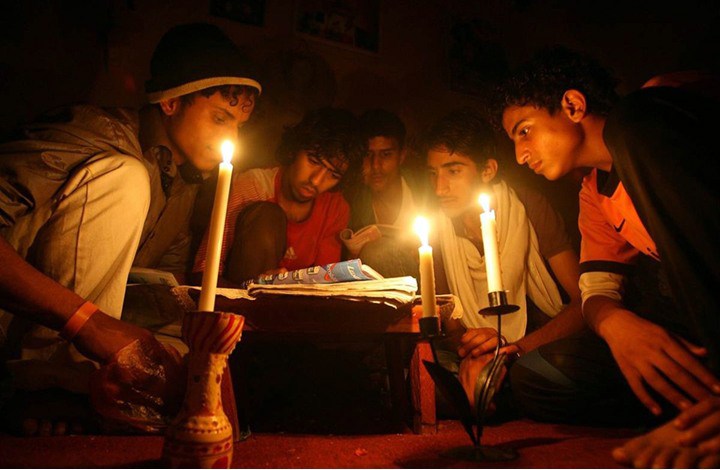 Enab Baladi Issue # 117– Sun, May. 18, 2014
Abdul-Rahman Malik
Damascus and its countryside are suffering from long-hour power cuts, where the electrical power remains on for only 4 hours period a day.  This has resulted in a great deal of stress and confusion amongst parents and students, given it is an examinations period where the cut off is a barrier to studying and preparing for exams. Not to forget that this crisis has come alongside the beginning of summer.
Damage due to sudden cuts off
Perhaps the first negative consequences caused by the electrical power interruptions are the financial losses in a huge number of economic activities; namely in vegetables, fruits, milk, cheese and meat retails.
Yasser, a butcher in the area of Kafarsousa, stated "I thought the electricity was cut off temporarily as usual, thus I kept all meat in fridges. I did not expect the electrical power would remain off for three consecutive days, which resulted in 60 kilos of meat went going bad, and caused a great loss to me". He pointed out that, consequently, instead of storing meat, he started to buy it at on a daily basis.
Vegetable vendors also noted that they had to sell fruits and vegetables cheaply in order not to get spoiled, after repeated power outages. Many Damascene families have also used the stored hoard, namely meat and vegetables, so they use it before it goes bad.
Students' suffering with the exams approaching
Students have their own share of suffer, especially with the beginning of examinations' period. The power outage has affected their preparation's progress, as expressed by Dima; a secondary school student. She stated that she has to finish the biggest part of her lessons during the day, since the outage occurs during the night with no more power alternatives than candlelight. Muhammad, a diploma-seeking student, pointed out that the electrical power has its own psychological impact on students' status and performance during exam times, since any studying activity a student is carrying out is in a way linked to electricity.
Alternative energy markets rebound
Frequent outages have revived generators and battery markets. Yet, this has become costly on the long term given the rise in gasoline prices, used mainly as a fuel for generators, where the cost of one liter of gasoline has reached 120 Syrian pounds. That's to say, operating a generator for a few hours a day would cost up to more than1000 Syrian pounds. Consequently, people started to look for cheaper solutions such as buying battery-operated lighting devices.
In a round across electrical tools' markets, Enab Baladi reporter has noticed many offers on prices of small lighting devices, which start from 300 Syrian pounds up to more than a 1000 pounds. Yet, according to one customer, these devices are not practical since they quickly break down after a month or two of usage, to turn up working for a half an hour with a dim light. One, then, has to replace the battery whose price is equivalent to the price of the device itself, and then you return to where you started. Yet, these devices remain to be the cheapest alternatives as he said.
Those who need better standards of lighting, tend to buy batteries and inverters, which convert the electrical energy of a battery from 12 volts to 220 AC volts. Companies provide various offers on the prices of these devices according to customers' needs and demands. The most focused on devices amongst customers are the ones able to charge mobiles, routers, and computers in addition to providing lighting.
Some of these markets' offers are for example; to run a router, three types of batteries are available at different prices; a battery that runs it for 6 hours at a price of 3000 Syrian pounds, a digital-screen battery at a price of 4000 Syrian pounds, and a battery with medium lighting that runs a router ad charges a mobile for 8 hours is also available at a price of 7000 Syrian pounds. In addition to that, a battery that runs a laptop and a router for 7 hours and provides medium lighting for long hours is available at a price of 12000 Syrian pounds.
The power cut offs have also affected work in governmental agencies. During the outages, citizens' services become unavailable in these agencies, especially the services run usually by computers. Samer said he had to wait for four hours to get a civil statement due to the occurring outage.
The ministry of agency has recently announced that 32 out of 54 steam and gas turbines that generate electrical power have become out of service. The ministry has also stated that "most high-tension lines that transfer energy from power plants to cities and installations have been attacked, which has led to the increase of rationing hours. It is worth noting that Damascus and its countryside have experienced several blackouts due to the long-hour outages since the beginning of last winter.
Translated by: Rahaf Alabar
if you think the article contain wrong information or you have additional details Send Correction