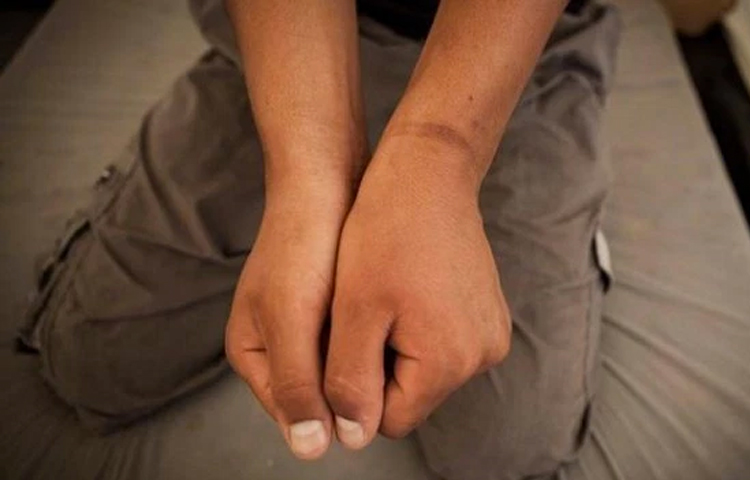 Enab Baladi Issue # 108– Sun, Mar. 16, 2014
Hassan Mutlaq
The United Nations's General Assembly has adopted a Convention on the Rights of the Child (UNCRC) in its forty fourth session held in 1989, under a resolution numbered 25/44. The convention came into force on September, 1990. In the fifty-fourth session, the Assembly added two more protocols to the Convention on which 130 countries have signed; the first is related to children's sale and prostitution, and the second is on their involvement in armed conflicts.
Mass arrests of Children in Syria
Since the beginning of the uprising in the country, Al Assad's regime has never hesitated to arrest children regardless of their age. The majority of Syrian families' members keep in their memories various scenes they have passed by or seen on TV of a child arrested or beaten with no pity or mercy. The arrest reasons differ and vary according to the security member; it might be the child's shirt colour which the security member didn't like, or the child got randomly arrested within the mass arrests carried out by Al Assad's regime in all Syrian cities, or it is possibly the security member's bad mood that makes him charge any child and put him in prison to face his dark mysterious fate, or in best cases to comfort a military court for adults.
Sever practices during detention
Khaled, a 15 year old Syrian child, has spent a period of 9 months in Al Assad's prisons, and left them exhausted, frightened and disoriented. He was arrested in difficult conditions and accused of unrealistic and unreasonable charges of those in his age. Khaled was exposed to all forms of barbaric torture that became known to everyone; which its simplest form is the harsh beating by rifle butts or legs. He was thrown to the ground, tied and blindfolded, they stepped on his body and hit his stomach and back with their boots and hands; resulting in injuries in his face, bleeding in the nose and bruises in varying degrees in his body. Many other abuses have been recorded against Khaled's peers who were arrested in brutal ways and are still detained in hard conditions and inhuman places. Many cases were subjected to the most severe types of torture without any consideration of their age, the chronic illnesses some have, and health care some others might need. All of the above would be putting children's lives at risk regardless of it being incompatible with the Law of the Child's rights and international conventions.
Facts and Solutions
Today, the Syrian child is considered a painful model on whom the worst kinds of attacks are exercised by a regime that neither respects humanity nor its rights. The child who has been subjected to physical, sexual or psychological abuse does not only suffer from the effects of the abuse experience, but also from other negative short-term and long-term effects caused by the abuse. Each child's experience is regarded unique; since not all children have the same reactions nor get affected in the same way.
There are many solutions despite the bitterness of all the above mentioned. However, these solutions do not receive funds or get supported in any required means. The simplest procedure is to provide the needed health care to such children and enroll them in rehabilitation courses in order to mitigate the effects of such practices. It is yet undeniable the attention that some organisations have led? to these kinds of problems seeking to have a leadership role in reducing the resulting affects.
Translated by: Rahaf Alabar
if you think the article contain wrong information or you have additional details Send Correction