Syrian Youth in Istanbul … Complications of living, and fears of landlords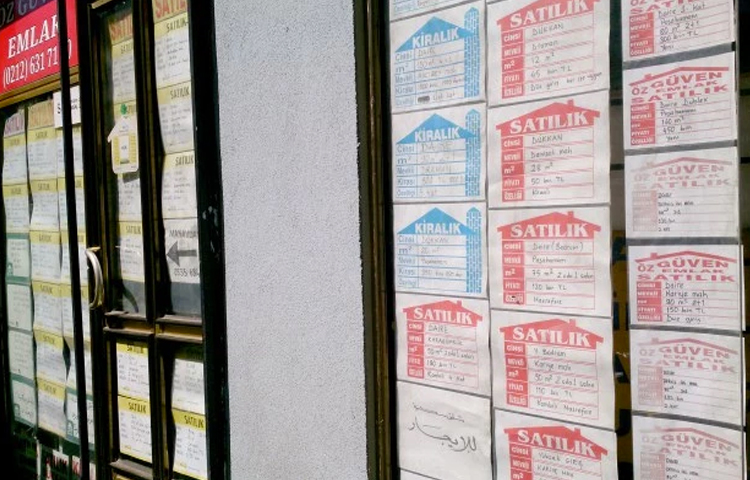 Enab Baladi Issue # 110 – Sun, Mar. 30, 2014
Alaa Shurbaji
Most young people suffer when they come to Istanbul from the difficulty of finding a place to live,so most of them have to live in dorms because most of the flat owners and real estate agents refuse to let them rent for several reasons and foremost their behavior.
Exsaray, Al Fateh, Taksim are desirable places to live by young people and Arabs, because of their location in the middle of the city and the accessibility to different ways of transportation, connecting them to the whole city, and the presence of bazaars and the possibility of finding jobs more than other locations, and because of the high number of Arabs and Syrians.
Turks have stopped lease renewals for young people
All those features, made it difficult for Syrians to get a flat in the middle of the city especially young men, according to Ahmad (30 years), who arrived two months ago, and is looking for a flat for his family that will arrive from Lebanon in two months.  The landlord's   condition was that his family must be present to make sure that his flat will not become youth housing. "Even with the confirmation that my family will arrive soon and will join me" said Ahmad.
Many young people said that the Turkish landlords stopped renewing leases for foreign youth, according to Mohamed (27 years) from Aleppo, who had to leave Taksim and move to Asniort, two hours away from the city center.
Mohamad, a young man living in Exsaray with a group of friends, was surprised because the Turkish landlord decided not to renew his lease. Mohamad said that the landlord was always nice to them while they stayed in his flat, and he gave them some furniture for free. But the other residents in the building warned him that they will call the police if he continues to rent his flat to young people. "We still do not know why the neighbours complained," Mohamad said "We asked, and there was no bad behaviour from our side."
Shukri (55 years) who is a Turkish landlord said that he rented his flat to three young Syrian men and after a while one of his relatives who lives in the same building told him that there are ten young men coming in and out of his flat. When he visited the flat he was surprised to see a lot of young men causing a lot of noise and making chaos in the flat. That made him very angry because the young men lied to him, but he respected the lease and asked the others to leave as soon as possible.
One of the real estate agents told our reporter, that housing young men is a source of disturbance and causes a lot of problems with the landlords, and the people living in the building who seek quiet and peace after a long working day. This is the reason why most landlords refuse to rent young men without families.
Abu Jad, a young man living with his family in Exaray, said that his Turkish neighbours are very sensitive about their comfort. And he was threatened twice last month that they would call the police because they were making a lot of noise at night. And although he was annoyed and worried about the complaints, he understood the reason behind their behavior, the tenants before him were young Iraqi men who caused a lot of problems and left the flat in a messy condition, which  revealed a lot about their behavior. "When I saw the house for the first time," Abu Jad said, "I was surprised to see garbage filling the backyard. I found cigarette butts everywhere, and shoeprints and stains on the furniture and the walls."
Samer (25 years) told us what happened in a building near the house he lived in, where the police came and evacuated a bunch of young men in the area of Topkapi after they misbehaved. He told us that he heard a young man from Aleppo hitting on a girl sitting in her balcony in a building next door. But that was not why the girl's father called the police. Another young man undressed himself and made some sexual moves to attract the girl, which made the father of the girl call the police.
Young men pay between 250 & 400 Turkish liras to rent a bed in a room containing four to six beds, and in some cases this number increases (each lira equals 50 American cents). Although this amount includes water, electricity and internet, but the high number of tenants causes a lack of privacy as Khalil Al Rahman, an activist living in a dorm in Al Fateh area says. Khalil (22 years) considered his stay in a house with 16 people as a punishment, because of the lack of privacy, and the constant fear of theft. He adds that he can't make calls concerning the revolution in the presence of his roommates, so he is always searching for a flat with only two other people with a lot of difficulty.
The condition of young men in Istanbul, and other Turkish cities, remains in constant threat because of the violations of some people who ignore the fact that their misbehaviour has an impact on other Syrians in Turkey. A foreigner will always be a foreigner.
if you think the article contain wrong information or you have additional details Send Correction