Revolution and Art.. Ali Mahmoud Aljassim, youngest abstract artist of Syrian revolution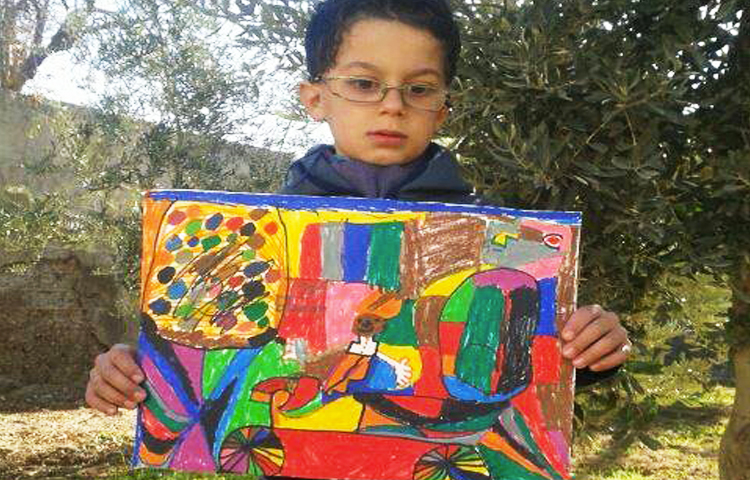 Enab Baladi Issue # 111 – Sun, Apr. 6, 2014
Alwan Zuaiter
War has its own scenes and repercussions, which mostly affect children. Children express what is going on around them in various ways; perhaps drawing is mainly the medium by which they get conciliated; since it is a visual tool that can clearly reveal what is in their minds.
Aged 7 years, Syrian child, Ali Aljassim, from the city of Alraqqa has started his drawing journey since he was 4 years old. Some of his paintings were sold in Canada, Germany, and the U.S as well as in Alwan institution in the French city of Lyon.
Talking about Ali's experience as an abstract artist; Khalil Ham Sorc, the abstract artist teacher of Ali says; "ideas are always in Ali's mind, preconceptions do exist in his sub-consciousness; which is essential for children creativity. As a talented child, Ali's paintings are usually confined to things by which he is surrounded. Yet, they do not reflect the actual shapes of things, but as perceived by him. For instance, Ali portrays a tree in the shape of a triangle; which is correct yet unperceivable according to the laws of abstraction and reductionism. Another example is the way he draws his parents; where he exaggerates enlarging his mother's drawing, which indicates his close relation to her.
All colors conciliate Ali, and so he always mixes them, which reveals his perspective towards life as lively and colorful. Given that Ali is a young child who has no control over the paintbrush, colors blend into one another on the painting's surface, and thereby adds a beautiful touch that is rarely seen in such paintings. Ali, however, recognizes these chromatic interactions, shows an ability to explain his paintings, and defends his choices very bravely.
His choices of colors have changed during the revolution to fit the war state; and therefore, I struggled a lot to return his colors to be as diverse as they were before".
When asked about his dream, Ali said it is to convey the tragedy of Syria's children to the world through his paintings exhibited all over the world, and reflect the violation of Syria's children's rights.
Children have their own language by which they express their feelings. Perhaps visual language and colors remain the most handy and closest tools for a child who wants to tell the world what he wants to say.
Translated by: Rahaf Alabar
if you think the article contain wrong information or you have additional details Send Correction