Refugees in the city of Alkiswah: Poor conditions; and marginalized suffering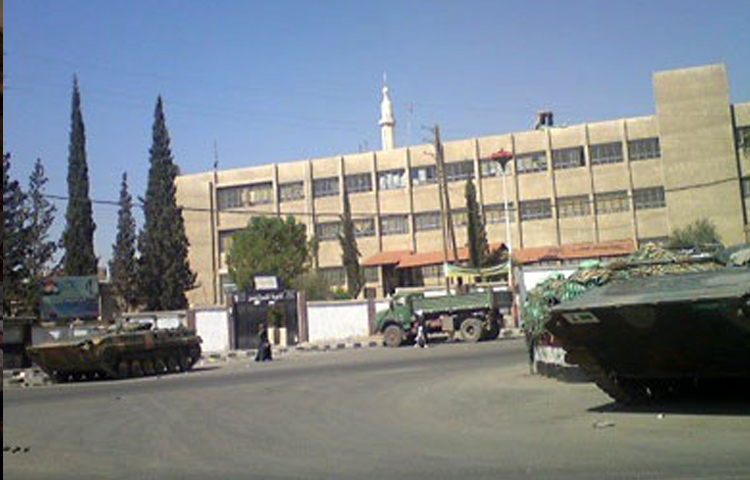 Enab Baladi Issue # 97 – Sun, Dec. 29, 2013 
Iman – Hurras (Guards) Network
Due to the continued arbitrary shelling and acts of vandalism, looting and wholesale arrests in the cities of Damascus suburb: Daraya, Alqadam, Yarmouk camp, Sbeina, Darkhbiayh , MoadamiehtAlsham and others, people of these cities were obliged to flee for their lives to relatively calmer and more secured cities such as Alkiswah. The huge number of people resorted to Alkiswah, has caused population congestion in a place of which the carrying capacity is weak. The displaced have settled anywhere they were allowed to stay; either in schools, unbuilt houses, or in cellars that lack the most basic necessities of human life, given that rental apartments and houses, if any, were too expensive for the refugees to afford. Therefore, those shelters were the only resorts, and here begins a series of daily suffering in trying to survive and make a living to be able to buy some clothes or provide the basic living needs.
Despite the availability of food aid provided by charities in each area, food remains insufficient and does not contain the necessary nutrients for the human body. Thus, many cases of malnutrition have been recorded especially amongst children, not to forget that 90% of the infants are deprived of milk. Sometimes, delegates of local and international relief centers view the shelters and visit the displaced families; yet, all they give is promises or even harmful emotional insults after visiting one or two families.
Moreover, very poor services of ventilation, lighting and water provided in the refugee centers especially in the cellars resulting in spreading odors and arising diseases; such as icterus, vermin and chronic fatigue.
Despite the cleaning turn arrangement within each center, it remains extremely hard to maintain a good level of absolute hygiene in such living conditions. It is vital not to forget the circumstances that make it rather impossible, given the lack of water and fresh air, the large number of population and scarcity in disinfectants and cleaning tools. Add to that, the small number of bathrooms and kitchens; each center contains one bathroom and one kitchen for more than 20 families.
Furthermore, people who live in these shelters need a great deal of medical care; the elderly who suffer from chronic diseases such as diabetes, blood pressure, etc., find it hard to provide their medications. Also infectious fungal and germ diseases spread amongst women, which requires an urgent care and raising awareness about the danger of such diseases and how to avoid their evolution.
The displaced also suffer from the lack of winter clothing due to the expensive prices, and thus, lots of them wear light summer clothes in the coldest winter days. rugs to sit on and blankets to warm by are not available either; they alternatively use canvas to cover the floor and reduce the cold. Given the inconsistency of electricity in the city in general, and the unavailability of it in the centers in particular, heating devices, if found, become useless. Consequently, the displaced spend a freezing winter and a harsh cold, which puts them in a dire need for help.
It is worth mentioning that more than 700 displaced families are settled now in Alkiswah city, more than a half stay in the 17 refugees' centers in Alkiswah. Each center consists of many rooms; in each room a number of 7 to 10 people reside, and sometimes a blind divides the room to accommodate more people.
Translated by: Rahaf Alabar
if you think the article contain wrong information or you have additional details Send Correction