Half of Syrian Children Threatened by Ignorance and Loss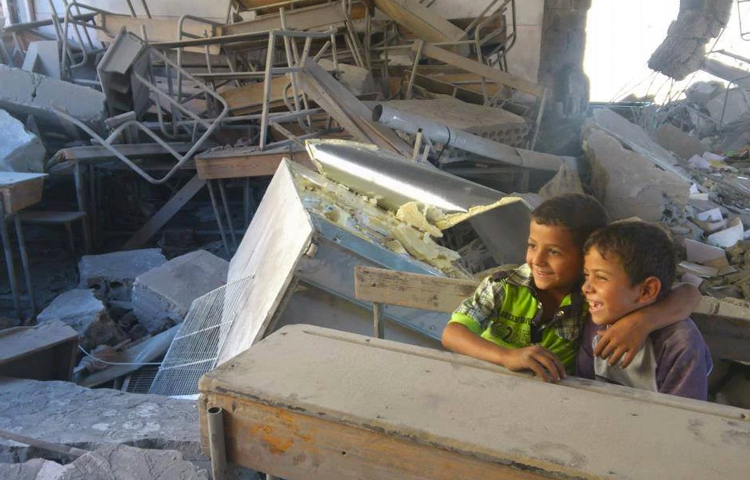 Enab Baladi Issue # 108– Sun, Mar. 16, 2014
Muhammad Ziadeh
There is no longer any difference in fate amongst the displaced Syrians and refugee children who were deprived from education in several neighboring countries, and those whose parents couldn't get them out of the country and so have been haunted by death and devastation. The resulting scenes appear to be similar for both in terms of losing learning and education opportunities; particularly among thousands of children inside Syria who used to wait eagerly for school time, yet the passionate enthusiasm faded away as the situation altered and deteriorated.
Daraya, which is only one of many examples, is a city that has been exposed to continuous military attacks for a year and a half. Schools have been bombed, damaged or transformed into shelters or military barracks for AlAssad's forces. As a result, more than 500 school-age children remained under ignorance danger according to "Abu Mujahid"; a member in media centre of Daraya city.
Within the beginning of the current academic year, the local council, in association with the experienced and qualified who remained in the city,
had established a school called "Daraya Almustaqbal" which accommodated 120 female and male students. Nearly 400 kids' families refused to send their children to school fearing bombardments. The school had included all levels of education; beginning from kindergarten to second intermediate grade. The school had run well for five and a half months. However, the explosive barrels that have been hitting the city repeatedly since the beginning of this year, forced those who made it to close its doors for the sake of kids' safety, who again returned to lose this precious education chance.
Same scenario applies to kids who fled with their families to devious areas in the western Gouta. Families suffer from the long distance their kids commute to reach their schools, where neither transportation is available nor safety and security on the road is guaranteed.
"Nour", age 6, who has fled with his mother, and younger siblings to a village named as "Almuklibah" in AlGouta, was not even able to learn the alphabet or spell out the letters correctly. Um Nour declares that she is not dedicated to care for Nour's education since she is more concerned about raising her younger kids. The father, an art college graduate holding a license in Arabic language and literature, is busy working in a greenery market to earn a living.
The displaced kids in neighboring countries, especially in Lebanon, live in camps in an absolute ignorance situation. Along 5 kilometers by the way to "Zahleh", a Lebanese industrial city, more than 13 camps are located and distributed on both sides. Around 800 kids, who were resettled there, have dropped out of education or reached school age but missed learning for more than two years; where nearby schools are not available to accommodate them, nor can their parents afford private school payments.
Abu Hasan, who is based in one of those camps, has offered to donate a piece of land to one of the charity organizations to build a school for the nearby camps' kids but "his words have never been heard or responded to".
A new report released by UNICEF, titled "Under Siege: The Devastating Impact on Children" stated that around 3 million of Syria's children inside Syria or outside in the neighboring countries are not able to attend school regularly. This number represents around half of Syria's school age children who are out of school. The report estimated a number of one million Syrian children under siege or trapped in unreachable areas, and that millions of children are threatened to be lost.
Translated by: RahafAlabar
if you think the article contain wrong information or you have additional details Send Correction