Fear over Hama's Residents Delays War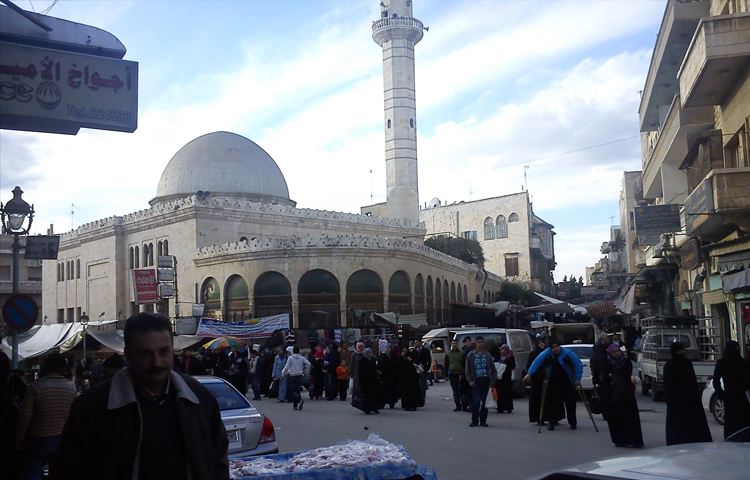 Enab Baladi Issue # 103– Sun, Feb. 9, 2014
Sami Al-Hamawi
Marginalization, economic and intellectual opacity, that's what Hama sufferedfrom since the eighties, until the revolution outbreak in March, 2011. The geographical and demographic location of the city, where there are neighboring Alawite Sunni towns, is why the city is still under the regime's control, what made it the military capital and the center for forwarding the military convoys toward the Syrian north. Several issues appeared after, and helped in changing the demographic structure of the city.
With the expansion of military operations in the country, the people of the affected areas choose to   seek refuge in Hama, the statistical office of the revolutionary command council recorded the arrival of about a million displaced people in several steps, most recently was during Kalamoon battles in November, 2012. In this situation, Hama's youth were stuck between two choices, the first was to escape out of the city and join the free army, the second was to enlist with the regime army in the mandatory service.
In talking about the difficult situations for youth inside Hama, Muhammad, a former student, has just finished his studies and graduated last October, "I hid during the day in my house and during the night in my neighborhood for 3 months, I was lucky I wasn't arrested because I didn't join the mandatory service, until having the ability to escape towards the liberated countryside at the beginning of the new year, and currently I work for a free army battalion in Hama" he says.
Most of Hama's residents are of low-income, most of them are employees, professionals or shopkeepers, less than 2% of them are traders or factory owners. Since the beginning of the revolution and the economic collapse in Syria, the middle class people decreased in the city, and more than two-thirds of the population have become under the poverty line. Abu Said, an activist in the humanitarian domain says, "50% of Hama's residents are supported by their children and relatives who works abroad (in the Middle East) with the aids provided by the relief associations, in addition to the appearance of monopoly and the economic corruption, in others words (warmonger)".
Abu Ali one of the battalion commanders in Hama, "The opposition fighters did great victories in Hama's countryside, just a few kilometers they are away of the town, I can't hide the fear on civilians "Where will the two million civilians in the city go?"; so he as well as other fighting groups seek to develop a strategy to enter the city and avoid destroying it.
Translated by: Hamed Shurbaji
if you think the article contain wrong information or you have additional details Send Correction