Children of Syria Taking Stands in Politics and War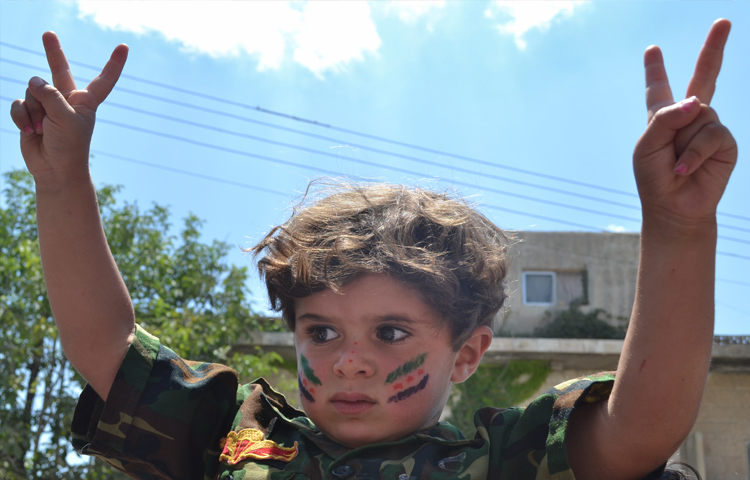 Enab Baladi Issue # 107– Sun, Mar. 9, 2014
Mohammed Ziyada
Maybe and at the beginning of the revolution, observers thought that the death of the child Hamza al-Khatib, and Hajar and their peers who departed birds to the sky will push the Syrians regardless of their views, thoughts and attitudes of the events to protect children and the innocence of childhood, and to distance them from what is happening around them. However the whole catastrophe led to extract childhood from its innocence, and dip it in the war grudges and bad politics.
As it is the case every day, the happenings are keeping Syrians busy, whether they are supporters or opponents, and they are taking attention and passion from them. Someone opens his favourite news channel, or talks with his friends about the recent developments, all without noticing the presence of his son or his younger brother by his side. Traditionally it happens that father will teach his son his ideas and his logic and whatever he thinks is good to invade the child's mind. All of these thoughts are not needed for children.
Recently, a video clip spread on YouTube in the name of "child is singing for the Syrian army +18" this video shows a young child singing enjoyably for 3 minutes on traditional melodies delivering greetings to the army and the forces of the fourth division with an encouragement from the photographer and composer who are reiterating the song with the child. This child is throwing insults, at Jobar, Darya and Saqba and the residents of these areas as well as other revolutionary areas, in words that childhood refuses to be a chapter of its lines.
In another video, on the same site, it says "a Syrian curses Hamad". This child in one minute pours his anger on Hamad bin Khalifa, the former prince of Qatar, and on Al Jazeera television channel. He calls them in the names of animals which are supposed to know only their names and forms. This child cheers for the "strong" President Bashar al-Assad who cares for them and protects them as he says.
In an interview with the child Ahmed who is six years old and he was displaced with his family from Darya to the cities of the west countryside of Damascus. This child is living conditions of the war, bombing and destruction. He says that he hates al-Assad and his regime, and he describes the latter as a "Dog" because this regime kills "Suleiman who is his relative", and because this regime prevents him and his siblings from studying and living peacefully. With tears in his eyes that long for a dream, of "grazing sheep and farming" which was always repeated to his mother and grandfather, he said that he will join the Free Syrian Army (FSA) to take revenge and to get his house back after it was turned by Assad's forces to a barrack.
Such positions impacted the child's life and his daily activities where children's toys turned to "wars" as we see in most of the camps that Syrians have fled to in neighbouring countries. These children took every chance that allows them to make their own traditional weapons or buy them if available. They exchange the roles of the killer and the victim, and the regular army and the FSA. When we speak to any of these children, we sense in their speech a bit of manhood and the feeling of responsibility though they are still young.
It is rare now to see children whom their parents kept their dreams, environment and their way to build their own future, reconstruct their countries and renovate their minds and not demolish them. The situation of the children of this generation has shifted their thoughts to think of injustice, oppression, love and hate that they live with daily. Additionally, the feelings of fear, insecurity and displacement are the dominant.
If patriotism is actually the intention behind this teaching method, so homes are left today without a childhood and children without home.
Translated by:Ruba Al Jarf
if you think the article contain wrong information or you have additional details Send Correction