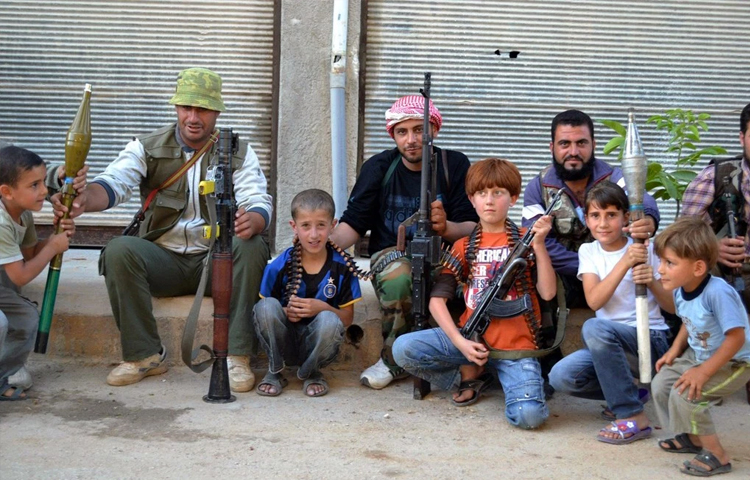 Enab Baladi Issue # 83 – Sunday August 22, 2013
Joudi Salam
Children inside Syria have been exposed to the risk of military recruitment since the start of the revolution. According to UN spokesperson, Melisa Fleming, malicious individuals have been taking advantage of these children for political and financial ends. This danger is increasing with the spread of armaments and the escalation of violence, both in the liberated areas and in the regions still under government control, reaching out even to children in the camps. Enab Baladi has reported the widespread phenomenon of child conscription in many areas of Eastern Ghouta, now liberated, and in the rural Western area, where fighting between the regime and Free Army continues.
 The journal met with activists and experts on the subject, as well as families of recruited children, to shed light on the reasons for the spread of this phenomenon and its repercussions. A peaceful activist from Duma stated that boys, between the age of 13 and 17 years, work with the Free Army. Some are based on the check points and battle fronts, while others work in transporting the injured and driving ambulances, as well as burying the dead! Meanwhile other children are put to selling petrol and diesel.
Another activist related to us an incident that happened to him. He was stopped by a child soldier at a Free Army check point in Duma, who asked him for his identity card. The activist then asked the boy how old he was, and whether he carried on identity card of his own! He was shocked to learn that the boy was merely 14 years of age!
Other sources in Eastern Ghouta stated that the Free Army based there, does not mind children joining its lines. He added that it has become normal to see a 12 year old carrying a gun at his side, in the market. We have been told by activists that many children have been killed whilst working with the Free Army, and many others have sustained injuries, adding that the majority resume their work with the Army despite these foreseen dangers.
On meeting families of recruited children to hear their opinions regarding the matter we received varying responses. Some families felt proud of their sons; one mother told Enab Baladi, "that boy, whom you may think little of, can shoot better than you can, he is far braver than you are". Meanwhile others expressed concern for their sons and disapproval of them joining the Free Army, explaining that they are unable to do anything about it, as their sons will not listen to them.
Anas, who is due to finish his primary education this year, has left school to join the Free Army in Daraya. His mother says that Anas used to run away from school last year to sit with the 'older guys' from the Free army, and that he was willing to do anything for them. She related that when the Free Army moved out of Daraya, she woke up to find that her son had gone with them. She hasn't seen him for 6 months and is now extremely worried about him. She does not know how he is going to continue his education.
There are many cases where boys have left their families and joined the Free Army. Hossam, 14 years old, ran away from home in Daraya, after his father was detained, to join the Free Army. His mother is also deeply concerned for his safety, but also angry with him for doing this. She added that she calls him every day telling him to come back home, but he replies that he can't because the city is surrounded by government forces.
A member of the media office in Daraya states that the Free Army had initially refused to recruit anyone under the age of 18. However a 12 year old boy kept insisting that he be allowed to join, that, after refusing his pleas many times, he was eventually designated some menial jobs to do for the Free Army. But the boy kept persisting to go with them to the battlefronts until they gave in to him and placed him on one of the check points, where he was hit by a rocket shell that cost him his life.
The readiness to respond to the calls of the Free Army by children goes back to the growing culture of carrying arms, which has been encouraged and ingrained in them. Many  times children have been photographed carrying a weapon, real or not, that parents would use to show off in front of neighbours and relatives. Also it is noted that the media has taken advantage of many children by taking pictures of them holding a weapon.
Some hold the view that the dangers, as a result of this crisis, of abduction and assault, have caused many children to seek arms, thinking that it will increase their self esteem and allow them to protect themselves. Many seek to make heroes of themselves in dangerous situations. Hence the phenomenon of arming children spreads, with the encouragement of certain groups and mindsets that hide behind the guise of the need to protect self and country.
The determination and courage shown by children has lead many parents and Free Army members to arming them and militarising them, not considering the repercussions and effects this has on the children physically and psychologically, let alone the great dangers they are exposed to. We spoke to a psychiatrist who pointed out the stark difference between peace and aggression that is mirrored in the difference between the child, a peaceful being, and the weapon he carries, a symbol of aggression. This contradiction, he explained, will have a grave psychological impact on the child. Carrying weapons breaks the social constraints and deterrents, that used to discipline a person's behaviour, which we want to instil in our children. The weapon gives the child complete authority over others and that is very worrying. The psychiatrist adds that promoting this culture of arming children, and giving them this authority, will produce violent reactions. He states that, "by arming a child you are encouraging him to abandon a civil culture and enter into a tribal system… which leads, in the end, to committing crimes".
if you think the article contain wrong information or you have additional details Send Correction