'Loopholes' Language .. Passages of Death and Survival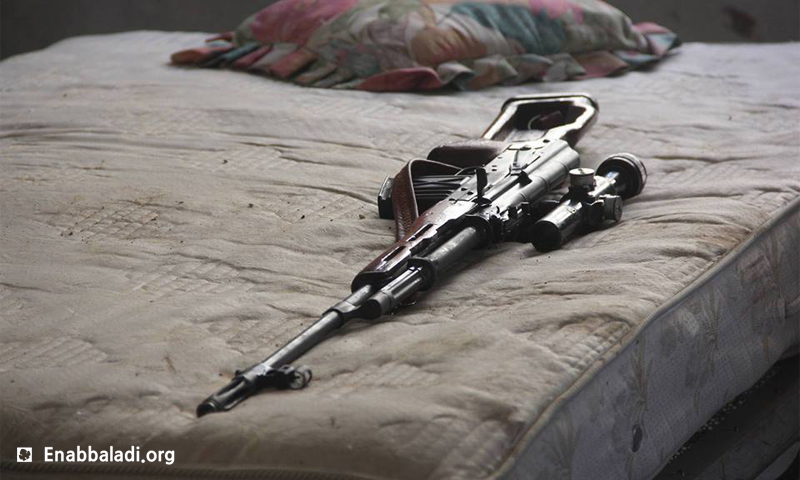 Ammar Ziadeh – Enab Baladi – Issue 75
Abou Wael checked the place first, then he stepped aside allowing his fellow-fighter Muhannad to take a look through the loophole, but a sniper's bullet was faster than Muhannad's looks; it penetrated his right eye bringing his end.
Abou Wael, the field commander of Shuhada Al Islam Brigade, says he wanted to tell something to his friend Muhannad, yet he did not have the chance; the sniper's bullet reached Muhannad first.
On the front lines where clashes continue for an eighth month, there is no time for rest or for looking back; "there death surpasses all", says Abou Jamal, one of Shuhada Al Islam Brigade's commanders. Abou Jamal considers opening these loopholes as a form of "duel or a speed competition". "We try to make a hole in the wall; so does our enemy… the ones who finish their loophole first wipe out the others who would be hailed as heroes or denounced as traitors", it depends how you view the whole scene.
"Passages of death and survival, a chance to hunt the enemy", that is how Abou Jamal described the loopholes; a quite accurate description. Some fighters made fun of the name loophole [Tallak] in Arabic, saying it stems from the word "divorce" [Talak] in Arabic, "at a loophole, a soldier goes through a divorce between himself and his soul", one of the fighters said.
Some fighters in the brigade, which includes most fighting groups in Daraya, told us that bullets "are the only language here". Others admit that the psychological state of a fighter and his attitude play a great role in triumph or loss; that is why FSA fighters play recorded "Takbir" or revolutionary songs at the fronts. Sometimes fighters use loudspeakers to address Assad forces demanding their surrender. "Sometimes we, FSA and regime forces, are only a wall far from each other; we can hear them sing, scream hysterically, or swear", says Abou Jamal describing the psychological state of Assad Army.
"Saif", a sniper in Saad bin Abi Waqqas Brigade, was hit by one of Assad's snipers; two bullets hit him, one in the shoulder, and the other in the abdomen. Saif was hit while he was trying to cover his friends. Fire lines are like triangles here, where there is no winninglosing percentage.
Despite his injuries, Saif still excels at sniper operations and thus manages to "block off vital roads for regime forces". Regime snipers' task is only to "protect areas seized with heavy machineries".
Saif waits for hours with patience hiding behind rock barricades; he quietly waits to acquire a shot at a senior military officer. After taking out his target, regime forces block his view with a wooden barrack or polyethylene cover and then they redeploy.
Saif pointed out that snipers in all fighting groups in Daraya do not have plenty of sniper rifles. The Russian-made Draganov rifles are very rare; while regime forces depend on this type of rifle which provides additional accuracy and long-range scope; whereas FSA fighters lack equipment "and usually the expertise". Saif had to quit collage, "and then received basic sniper training" at the beginning of the ongoing military campaign on the city. Thus he filled a sniper position despite the fact that he had never carried a gun ever before.
The main use of a loophole is for surveillance of enemy and for sniper operations. Sometimes, loopholes are enlarged to be used as safe passages from one building to another; a fighter thus would be able to move for longer distances seeking refuge from the shooting. Medical staff and media workers use these passages as well.
Field reporters use loopholes to record military operations; they also use them to record regime forces movements and to document their violations. Abou Al Fidaa, a member of media department in Local Council of Daraya City (LCDC), moves "based on FSA instructions" because "they are well acquainted with the area". He added "we benefit from loopholes; we monitor military convoys. We film targeting tanks as well from a loophole different from the one where the RPG launcher is stationed".
Abou Al Fidaa added that two of the department lost two of its members, Zaid Sharara and Ayman Murad. They were targeted with tank shells as they were trying to record the tanks' movement.
Though they do not get close to front lines; civilians in the city suffer from the presence of these loopholes because Assad snipers sometimes disclose vital roads through them; however FSA put warning signs and block these roads with barracks to prevent civilians from using them, says Abou Al Fidaa.
The medical department in Daraya City estimates the number of injuries inflicted due to errors during opening a loophole or through an exposed loophole at 100 injuries. In addition, sniper injuries were estimated at 500; 75 of them were head injuries and half of them were fatal.
if you think the article contain wrong information or you have additional details Send Correction