Why do more children join private schools in Syria's Azaz despite low income and high fees?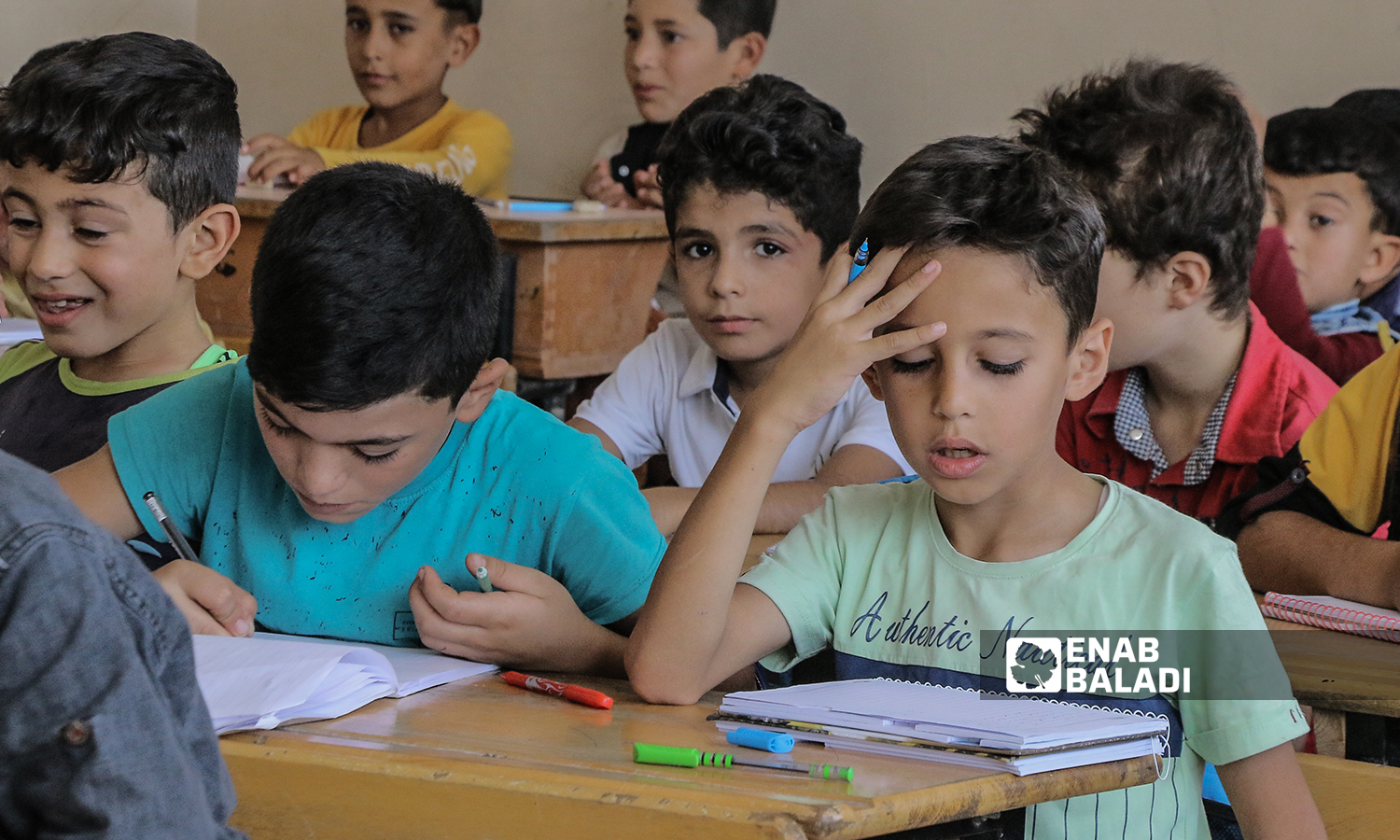 Aleppo countryside – Walid Othman
Ibrahim al-Issa, a resident of the city of Azaz in the countryside of Aleppo, has to pay 250 USD each year to send his daughter, who is ten and in the fifth grade, to a private school. This is because of the deterioration of education in public schools.
Al-Issa told Enab Baladi that numerous parents choose to send their kids to private schools in the city of Azaz because almost no attention is paid to students'academic performance in the public education sector; public schools are extremely overcrowded; they are no longer able to accommodate the growing number of students in the region.
Twelve schools in Azaz are forced to absorb 200,000 students. Students and teachers in these overcrowded schools are facing many challenges such as stress and frustration; teachers experience instructional problems, high workloads and discipline problems while students cannot perform better because of excessive noise and lack of concentration.
Characteristics of private education
The city of Azaz, and most areas in the Aleppo countryside, suffer shortages of schools and overcrowding due to the repeated waves of displacement. In addition, many schools were turned into military and security headquarters and institutions affiliated with the local councils in the area.
Abdul Qader Haj Othman, a resident of Azaz city, said that he enrolled his daughter in a private school because teachers pay additional attention to their students' academic and social performance over time, they check their students' progress of what they have learned routinely via WhatsApp groups. Furthermore, private schools offer transportation services for their students.
Haj Othman also told Enab Baladi that he does not have time or qualifications to teach his child lessons that are supposed to be given at public schools. His task is only to keep his child on track to be a successful student. Students at public schools in Azaz cannot learn well because of overcrowding and high noise levels.
Addressing school shortages
The Director of Education in Azaz, Nader Hourani, told Enab Baladi that the directorate, in cooperation with the local council, is making efforts to establish an additional number of schools in the city and its countryside to accommodate the rising number of students.
The Directorate of Education said that two new schools, primary and secondary, are in the process of being established within the city. The directorate has already completed the construction of a primary school in the eastern neighbourhood of the city.
In a commentary on the deterioration of the educational reality in the region, Hourani pointed out that the education sector is faced with some significant challenges. Still, things are going "well," based on the fact that more high school graduates from Azaz have started going to college.
Nader Hourani pointed out that the Directorate of Education tries to raise the overall level of education obtained at Azaz's schools. The directorate also aims to create a generation of young people who are well educated and learned and capable of rebuilding and developing their country.
In the last few days, dozens of teachers in the city of Azaz have staged a protest, demanding improvements to the educational process in the region and salary raises.
The challenges the education sector faces are not confined to shortage of schools, overcrowding, and low pays. Last May, Save the Children warned that education is still under threat due to the ongoing violence.
Last January, the United Nations Children's Fund (UNICEF) estimated the number of children deprived of education in Syria during ten years of war at more than two million.
if you think the article contain wrong information or you have additional details Send Correction