Maktumeen in Syria's Aleppo denied access to fundamental human rights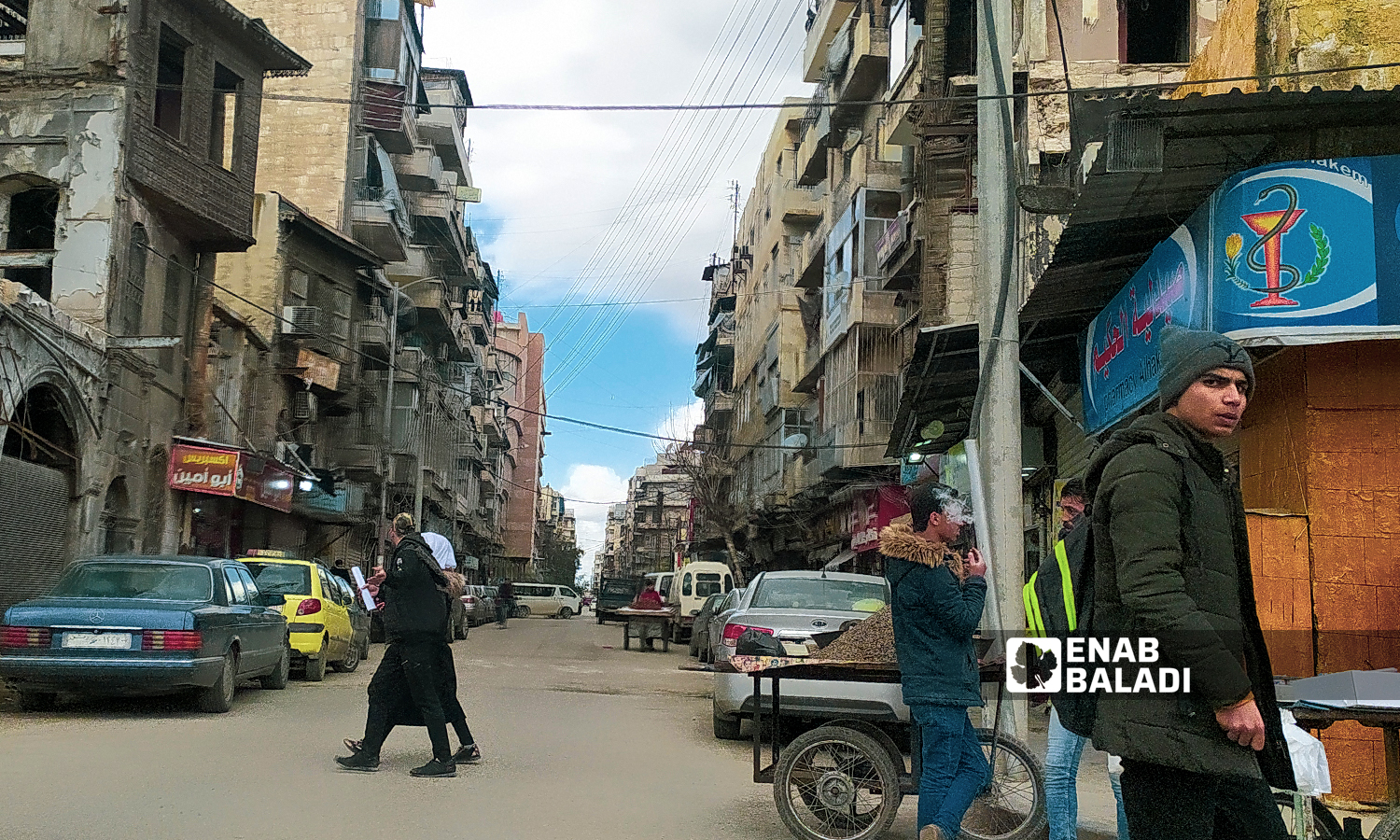 Enab Baladi – Aleppo
Omaima, 49 years old, has been trying to enroll her two sons Ayham (9) and Mahmoud (7) in primary school in the neighbourhood of al-Sukari in Aleppo. Yet, seemingly all her efforts will be rendered futile. 
Omaima's children cannot have access to education because they are not listed in their family booklet. Besides, their birth was not registered in the civil status department.
In an interview with Enab Baladi, Omaima said that her children lack civil documents because the civil status department, and most of its papers and documents, were burned down due to "the clashes that took place in Aleppo during the years 2012 and 2013."
The clashes caused significant material damage to the department and its contents. 
Neglecting the rehabilitation of the civil status department resulted in dire consequences. Many residents of Aleppo have not been able to document or register their marriage and thereby the births of their children.
This matter is further complicated by the fact that Aleppo residents do not know how they can address this problem. Besides, the government institutions do not even raise public awareness about issues regarding the civil registration of birth, marriages, deaths, etc.    
Children deprived of their rights
Omaima told Enab Baladi that her children are nonexistent in the eyes of the Syrian law. Moreover, the physicians in Aleppo do not accept to verify the certificates of her sons' live births.  
Omaima has to go to court to file a lawsuit at the Sharia or spiritual court to establish her marriage, then officially officially register her children's births in Syria. She is afraid that her unregistered children may be denied their civil rights in the future, most importantly, to have access to education. 
In 2012, Omaima had to deliver her two children at home with the assistance of a midwife because the roads leading to the hospital were unsafe as a result of the clashes taking place at that time between the Syrian regime and the opposition factions.
Omaima continued, "For two years and a half, I have been trying to register my children's births. I have visited the civil status department in the Baghdad Station area several times to obtain birth certificates for my two beloved children. However, all my efforts have gone for naught. This is because I do not have enough money requested by the employees of the civil status department in order to go back to the archive department that proves my marriage." 
 Omaima cannot prove her marriage, either, because unluckily, her husband died in late 2012 due to aerial bombardment on the neighborhood of al-Haidariya.
She was asked to bring her two marriage registration witnesses, and however, she was only able to present one. As a result, she can prove neither her marriage nor her children's births.
Therefore, Omaima is almost certain that her two children are not going to go to school this year.
The maktum
According to the Civil Status Law, promulgated under Legislative Decree No. 26 of 2007, a maktum is— anyone whose father or both parents are registered with the Syrian civil registration departments or anyone with Syrian origin— who was not registered within the deadline stipulated by the civil registration departments; namely, within 30 days from the birthdate.
Asmaa, 33 years old, is facing almost the same problem as Omaima. Asmaa's religious marriage was conducted in 2013 by a Muslim cleric, an Imam. However, she did not complete the necessary procedures to register her marriage in the relevant official institutions. 
After Asmaa gave birth to twins, her husband disappeared in an attempt to flee al-Sakhour neighborhood in northern Aleppo. 
She tried to get a family booklet, but she could not because she lost her Islamic marriage contract, Asamaa told Enab Baladi.
Withholding her last name for security concerns, Asmaa said," My husband has been missing ever since. I looked for his relatives, but I learned that they left Aleppo for Turkey. Now, there is no way to document my marriage." 
Asmaa said, "men do not want to marry me because they do not want to raise kids, who are their own. That's why, I chose to stay single and raise my kids all alone." 
Asmaa's number one goal is to register her marriage with the State civil registry office to register the births of her twins, who have just turned seven years old. That's to say, they reach compulsory school age.
"For more than three years, I have been trying to register my marriage. Still, there is no response from the civil state department. I also went to the social affairs department, which in its turn, did not respond to my request."
Asmaa elaborated," I do have two people, who can witness that these two sons are of mine. Nonetheless, they insist that there should be witnesses from my husband's side to document my marriage. But, you know as I told you before I do not have any kind of contact with them. I lost their trace."
This major challenge, encountered mostly by Syrians who got married outside the areas controlled by the Syrian regime. Thus, children born of these undocumented marriages remain unregistered with the state's relevant departments because Article 28 of the Civil Status Laws stipulates that birth cannot be registered unless parents' marriage is recorded first.
Registering maktumeen with the civil status departments is the first step to preserving their civil rights, most notably their right to a decent life, education, health, and the completion of government transactions without facing any problem.
Attempts to solve the dilemma 
Many Syrian customers go to the civil status department in Aleppo to register their child's birth to obtain a birth certificate and give him-her an official identity. However, in most cases, only one of the parents shows up, with no family booklet. 
An employee in the civil status department at the Baghdad Station in Aleppo told Enab Baladi that several factors have prevented people from registering their marriages during the past ten years. 
Parents failed to establish lineage or document births in civil registration departments of the Syrian regime, deterred by political, security, economic, and even social reasons. 
The employee added that many births and marriages were not registered with the Syrian civil registration departments. At some point during the war, a significant number of couples who were married unofficially through religious ceremonies, have children. However, they failed to register them because they had to produce valid documents and register their marriage first.
Some couples argued that they are not able or are afraid to document their marriage and thereby their children because they are wanted for military service or by the security services. 
The problem of undocumented marriages and births is exacerbated when one of the parents dies or gets lost or disappeared. Here, children become legally labeled maktumeen because the marriage of parents is not registered.
Some women gave birth outside of hospital settings, getting no birth certificate for their children.  
"Hundred of births are not registered. The case of unregistered births is currently under study. Efforts are being made to record the births of unregistered children, but on one condition: parents should bring witnesses to the births of their children and should resume responsibility for filing a suit in the court to access their children's birth certificates," said the employees of Aleppo's civil status department. 
However, these proceedings take so much time, not to mention the fine that should be paid for not registering their marriages and their children's births. 
"During the past two years, hundreds of cases of have been recorded; more than ten cases per day. 
"Once the marriage is documented, three or two children can be registered and then given a birth certificate. However, these civil procedures take a long period of time. This consequently hinders children's access to education. Children cannot go to primary schools unless they give the school administration a copy of the family booklet that shows their parents," the employee explained. 
The Norwegian Refugee Council (NRC) stated, in its report issued in 2017, that 70 percent of Syrian refugees lack basic identity documents (National Identity Cards).
The NRC interviewed 734 internally displaced families in areas administratively affiliated to the governorates of Daraa and Quneitra. Half of the interviewees said that "their marriage documents were lost, confiscated, destroyed or left behind when they were displaced."
Many Syrian families are facing major identity issues relating to lacking identification or property ownership documents, which they lost and/or were unable to obtain because they failed to record their civil events— births, marriages, and deaths—with the official civil registration departments, prevented by displacement circumstances, the fact that many areas are outside the control of the Syrian regime, the destruction or closure of civil registration departments, that remained operative, along with courts, only in regime-held areas.
Stateless children in Syria, who are deprived of Syrian nationality, do not only encounter difficulties in accessing their fundamental human rights such as the right to a decent life, education, health, and work but they also cannot have properties of their own. Enab Baladi in an in-depth article titled "Waiting for the legal birth: Maktumeen in Syria deprived of ownership rights" discussed with a group of Syrian legal professionals the mechanisms needed to safeguard the rights of maktumeen Syrians to ownership and inheritance. 
Enab Baladi is withholding the last names of its interviewees out of security concerns.
if you think the article contain wrong information or you have additional details Send Correction