Release Me: Beacon of Hope for Female Survivors of Violence in Northern Syria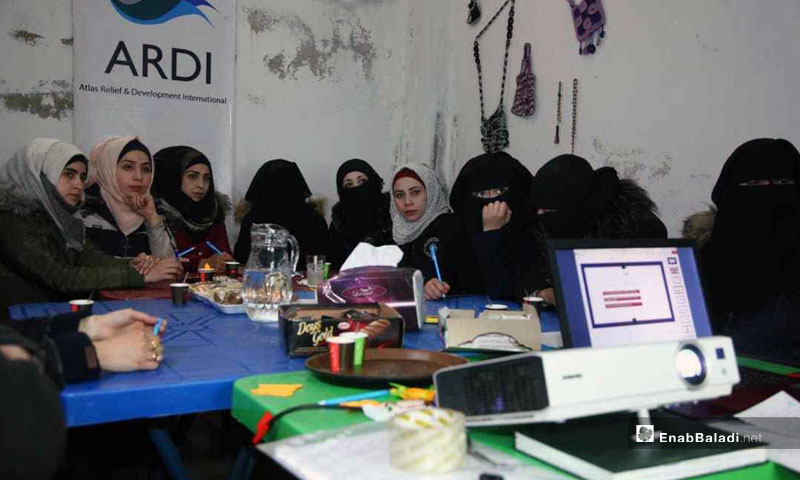 Project Release Me was launched to alleviate the effects of detention on Syrian women, as well as their alienation from displacement and the hardships of life, which women suffered as a result of the eight-year Syrian conflict.
The project works to provide psychosocial support for female survivors and battered women, to enable to start healing.
The founder and director of the organization, Walaa Ahmado, a former detainee, told Enab Baladi that the project was initiated in Kafr Nabl two years ago. The organization inaugurated its second center in Kafar Takharim, and some of its activities are conducted in Afrin.
The project targets female survivors of violence, be they former detainees or women affected by detention such as wives, daughters or mothers of detainees. It also includes survivors of physical and verbal abuse.
Ahmado explained the concept of violence by saying that "every bad or negative experience that a woman endures impacts her adversely, and restricts her from achieving her goals, and could even deprive her of her rights."
Displacement, divorce, widowhood and loss of breadwinners, deprivation of her family and loss of opportunities are all forms of psychological violence from which the organization is working to emancipate women.
From Taking Towards Giving
Dima Sadiq was detained for four years in Syrian regime prisons, and was later released only to encounter a new and alienating world, which stole her dreams and lost their future, as she put it.
Sadiq told Enab Baladi that deprivation from freedom, and physical and psychological violation, all confine women within a vicious cycle. This leads women cannot manage their surroundings towards aggression and introversion.
After two months of isolation in her home following her release, Dima tried to enter vocational training within the organization, and soon sensed tangible improvement.
Psychological support and dialogue sessions enabled her to shift her perspective, and encouraged her to contribute to society to the best of her ability.
On this basis, Dima strived to attend courses and training sessions, until she managed to get a job in the same organization. She then became the director of a center for the same organization in Kafar Takharim.
Forms and Mechanisms of Support
The project's organizers initially relied on a psychologist, to work on the psychological recovery of girls and women. The methods of support were transformed into focus group sessions that included open dialogues and discussions, urging participation and cooperation to address the women's problems.
The project also provide  psychosocial support to deal with gender-based violence, which has been of great benefit to beneficiaries, Sadiq said.
The project also includes vocation training for women, and recreational activities for their children. It also providers them with job opportunities as well as support for their own business projects.
The Importance of Psychological Support
One project beneficiary in Kafar Takharim, who asked not to be named, told Enab Baladi about the extent to which she has benefited from receiving psychological support. She said that she was able to overcome the difficult state she was in after an experience with domestic violence.
"I used to need sedatives to rest," she said, but her condition dramatically changed. She has regained her self-confidence and managed to get a job that provided her with sufficient financial security.
"Psychological support is the cornerstone, and the point that marks a woman's transition from one reality to the next," Sadiq said. She added that the support her organization gives motivates women to accept reality with all it holds, in order to overcome their limbo and leave their past as a distant memory.
if you think the article contain wrong information or you have additional details Send Correction