Qaboun's Industrialists and Damascus Provincial Department's Crisis Continues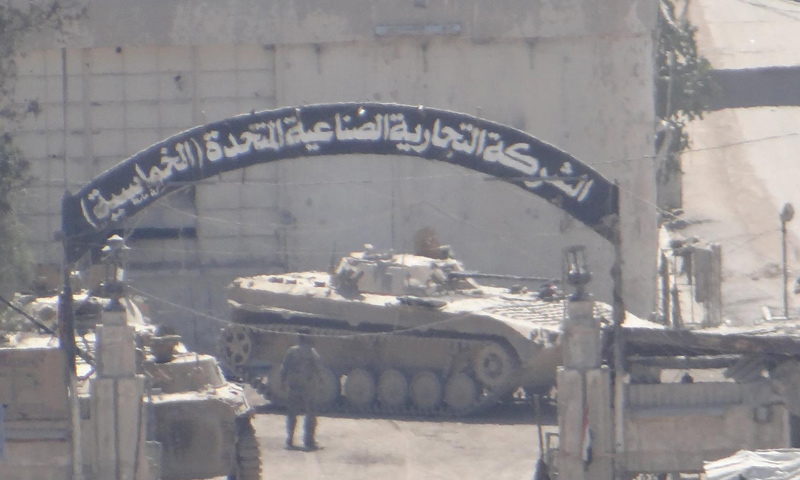 The tension between the Qaboun Industrial Zone's industrialists and the Damascus Chamber of Commerce following the latest state's decrees, which provides for the eviction of the industrialists from the Industrial Zone and taking them to the Adra Industrial City, persists.
Only two of the Qaboun industrialists have applied for transferring their industrial facilities to the Adra Industrial City, as the pro-regime al-Watan newspaper has quoted Faris Faris, head of the Adra Industrial City, today, December 6.
Faris said that the actual shift has not yet been done, though the demonstration of the Adra Industrial City has been worm about the step and the readiness to provide facilitation to industrialists and investors, wishing to move their utilities in the city.
The Qaboun industrialists refused the Provincial Department's decree, providing for moving their facilities from Qaboun to Adra.
As a justification, the Damascus Provincial Department alleges that 80% of the area is destroyed. However, the area's industrialists say that the destruction inflicted on the city is no more than 10%, supporting their estimation with the evaluation of the Engineers Syndicate and the Syrian Ministry of Justice, as quoted by the governmental al-Thawra newspaper.
The Qaboun Industrial City is included in a new regulatory plan, set up by the Ministry of Public Works, assigned by the State's Council of Ministers.
The director of the Adra Industrial City stated that the city has asked the Damascus and Its Countryside's Chamber of Industry to provide lists of the industrialists' numbers and data, but, to the day, the Adra City's administration has not received any of the demanded lists.
According to the Damascus and Its Countryside's Chamber of Industry, the Qaboun Industrial City contains 750 facilities, functioning in chemical, food and engineering related industrial fields.
As stated by its Director Samer al-Dibs, the Chamber of Industry attributed not providing the Adra Industrial City with the lists by the idea that they are not ready yet, for the industrialists are still relaxed about offering their applications while hopping for a change of the government's decree.
The Eradication of Buildings in Damascus' Surrounding as to Impose New Organizational Structures
if you think the article contain wrong information or you have additional details Send Correction